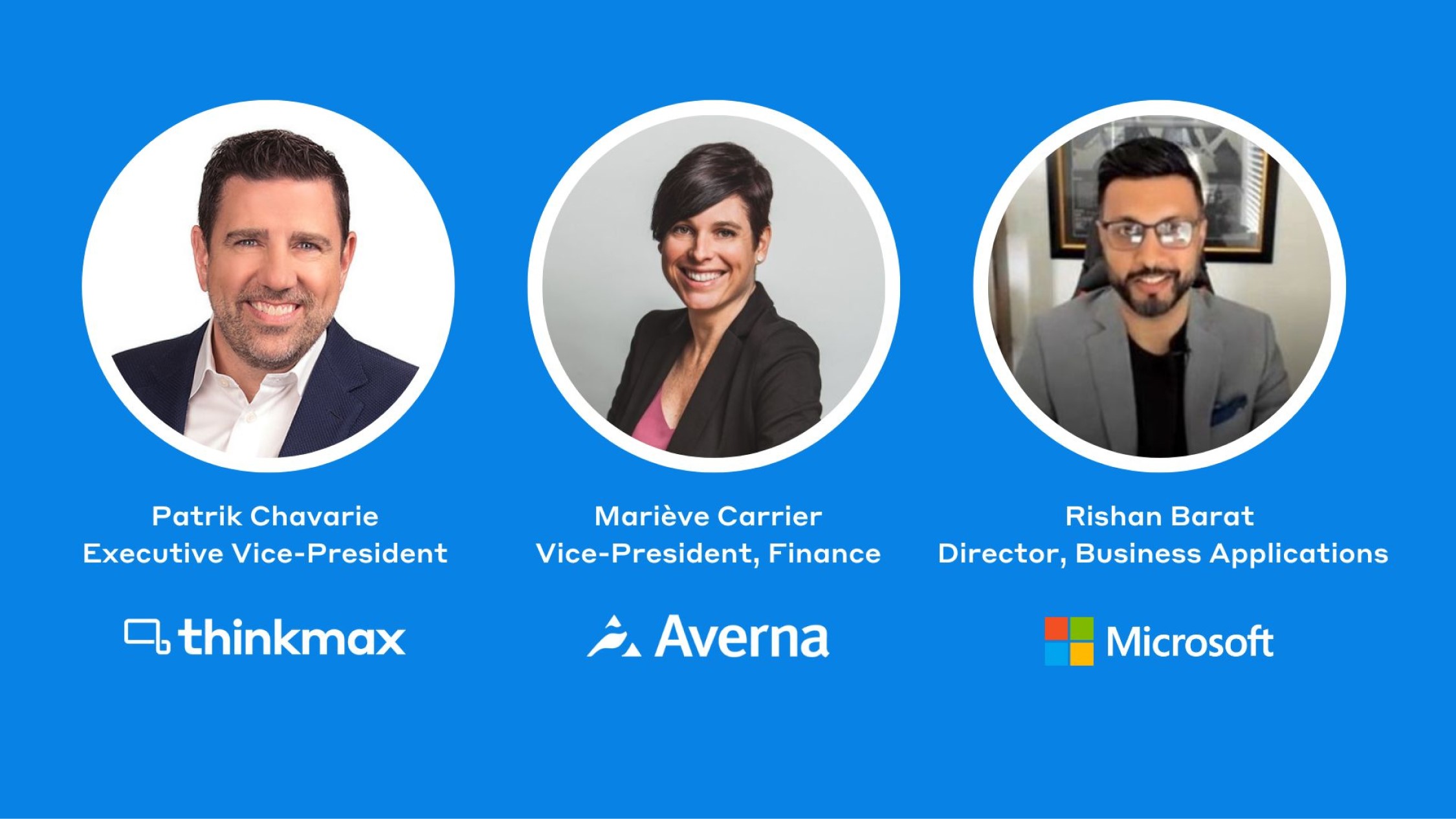 If your organisation is embarking on a digital transformation and ERP modernization, this is a must-read summary of some questions and answers from our live panel discussion with Mariève Carrier, CFO at Averna, Rishan Barat, Director Business Application at Microsoft, and Patrik Chavarie, Executive VP at Thinkmax.

Tell us about Averna and how the organization is growing and scaling globally before we get into the technology and decisions you made.

Marieve: Sure, I'll start by explaining our current business model and where we're going. It's important to know that we're not franchisees, we don't replicate the same company in seven different countries, we're really a fully integrated global organization. So, for example, we can win a project in California with a major medical client, and we can go get the expertise of an engineer in Poland, with the competencies of our logistics and procurement team from Canada and implement the solution and assist the client from our team in Mexico. This is how we can be financially successful because we can get the capacity and energy of all our teammates across the world. You can imagine how complex this model can be in the background on the finance side, but this is also how we will continue to succeed and evolve in the future,. The test industry is highly decentralized with small players in each country doing local market service. We want to be the first global player to assist global clients. We're already fast growing with 10% organic growth every year and intend to double in size within 5 years with many acquisitions in the US and Europe. This is why we need a strong ERP to support this growth.


How have you been able to adapt your business model for the pandemic?

Marieve: I can say we have been extremely lucky. I know that was not the case for most businesses. We are not focused on only one industry, so some industries like medical grew, and had urgent and important needs which we could jump on and support, while automotive was completely shut down for a few months and is still slow to pick up. It paid off that we diversified the industries we serve and the way we are structured internally to be flexible in which resources we pick without being limited by country.



What are the main industry challenges Thinkmax has seen created by the pandemic?


Patrik: Resources are a key challenge right now. What we are seeing in the market is that the pandemic created this complexity around people. Combine that with the supply chain, you have a recipe for challenges. Focusing on the people, companies want to do more with what they have, start thinking about automating processes, how to eliminate repetitive tasks that have no value. The second challenge is the supply chain, having visibility on overseas shipments, inbound, and raw materials, how do we drive that? And last but not least is the cost. Costs are increasing, how much can you manage the costs? How much can you absorb and how much can you transfer to the market? A lot of our clients have pre-determined agreements with their end users or clients.


In addition to these industry drivers, what were Averna's main drivers for deciding on an ERP replatform?

Marieve: Like many companies, the main driver was that we had really outdated systems and each country had their own system, so when it was time to consolidate on a project where we had team members or costs from different countries, it was a nightmare to get information in real-time. Even our main system in North America was no longer supported and we had only one employee who knew the system, so it was a business risk. In terms of which system to go with, as I mentioned, we are in many countries, so we never diminish the challenges about the languages, localization, government rules, or taxes etc., We have highly customized projects, so the Project Module was THE key for us, to be really highly detailed and able to support us, track costs and profitability in real-time. Also, we had to support all the inter-company operations even though we are many legal entities in many countries, it could not show, it had to be about the project. . We needed that support in the background to have transparency and visibility on every project.


Tell us about the challenges along your digital transformation journey

Marieve: We first started with another consulting company with a turnkey mandate and fixed price, leaving them fully in charge. It didn't go well so we cancelled the contract. Because we weren't happy with our experience of being fully dependent on another company, we went the total opposite way and decided to do it from scratch by ourselves. It would be cheaper than paying expensive consultants, but we had no knowledge or expertise. So, I think it could have worked but I'd still be trying to implement it today because we were learning, and everything was taking a lot of time. So that didn't work well. I needed something in the middle.


How did you end up partnering with Thinkmax and why?

Marieve: I reached out to Thinkmax for their help, but I challenged them to meet us in the middle, so we could be autonomous. I wanted their help but not for them to take over. They brought their expertise, and they fueled and accelerated the project. We shadowed them and they taught us, and, in the end, it was cost efficient, and a good decision, because now we have daily autonomy. It was a coaching approach and a win-win solution with Thinkmax. It was also important that they had a global network so when we expand into new countries and they can accompany us with their connections and support our development.

Patrik: We're there to eliminate errors, to transfer industry knowledge, product knowledge, and best practice knowledge. The philosophy that Marieve put in place is the right one, giving Averna the: ability to own their system, own their digital transformation projects, and their program. As much as we've realigned and fueled Averna to go live with the foundation, they've since deployed to Mexico and to Europe and we've become an advisor to guide them. We come up with a methodology, and we have to continually improve it and provide flexibility, which is why we welcomed the idea of Marieve's challenge of how we were going to do this project. We put together a framework that allowed both organizations would to minimize risk and drive value together. We challenged each other.


What makes Microsoft Dynamics 365 right for Marieve's drivers?

Patrik: I believe that Microsoft Dynamics 365 and Microsoft play is a unique play in the market, and this will tie back to what Marieve did. I think it's the combination of the best practices at the core, but also the agility at the edge. Microsoft Dynamics D365 for Finance, for Supply Chain, for Project Operations, HR, Field Service, Sales, CRM and everything else is based on industry best practices. But for companies like Averna to innovate, to change, they need agility at the edge. That means how do we extend the best practices from the ERP side, and to deploy net new ways of form factors, a new way of automating processes while leveraging the validations that come with a transactional system like an ERP?

Microsoft combines their enterprise resource applications, namely Microsoft Dynamics 365, with the agility at the edge combining the data and the AI play, and how they leverage the data with Power BI. Think of the Power platform to automate processes, build workflows, help guide what we're doing today with the constraint on resources, but also on the productivity and the collaboration suite, even in Teams how we combine that with the ERP and the different systems. So, Microsoft has an interesting play with the enterprise business application portfolio and the platform to truly enable organizations like Averna to transform themselves into what we know today, but also what is required tomorrow to compete - even if the model has to change.


Tell us about Averna's successful change management strategy.

Marieve: You first need to align your processes, and know what you want to do first, so we had to do some clean up. Then we invested in this state-of-the-art ERP and since our business processes were well aligned, we leveraged the standard functionality of the system. Without that alignment, there won't be any magic. In terms of the strategy, we developed champions, not of each module but of processes. Now we have loads of champions, and these employees get to be super proud of being in charge of something. They're the ones who do the tests and get the training from Thinkmax or the internal Averna team, and they're the ones spreading the news and training the other employees. This has been a really good payoff because you have so many people knowing the system before even going live. And they get to be ambassadors of change. Plus, they're becoming Level 1 support for other employees, and if they can't solve the problem, they'll call the internal D365 team. This in turn lessens the pressures on the technical team. We also have an internal team, a developer, and a business analyst with the capacity to develop within the ERP system, supported by Thinkmax.


What would you do differently?

Marieve: There are a few things I would have done differently. One is having the mindset that it had to be done cheaply. For sure it had to be cost-efficient and we were really cost-conscious, but to start a project like this being so stressed about expenses, you make wrong decisions down the road. This is where we tried to do it ourselves, and we just lost time, and had to redo everything. I would have also had my management team think differently because you need their buy-in for this type of investment into the company. You have to see the benefits and the quality of the implementation. We were also so worried about costs that we thought it would be cheaper to do it on-premises instead of on the cloud, but that's against what D365 is meant to be, so we went with the cloud and leveraged the way the platform was designed to be and it's paying off today.
Watch Averna's ERP Modernization Journey