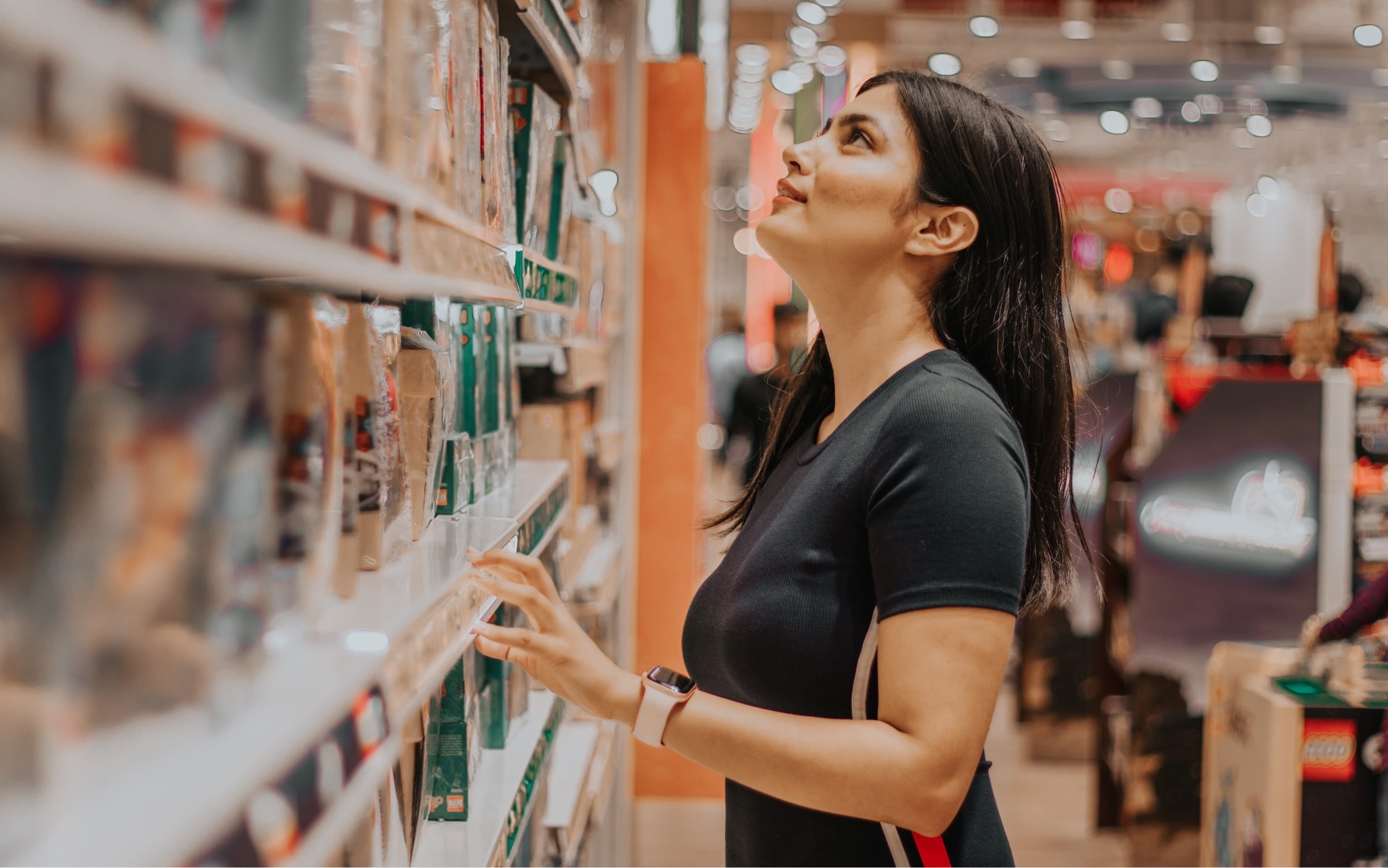 There's no question that the global pandemic of 2020 had a lasting impact on retail and consume behavior. The keyword here being lasting although exactly what that looks like remains to be seen. Another keyword being used by industry analysts is hybrid, as retailers prepare for reopening knowing the adoption of digital shopping preferences and tendencies will stick, even as people flock back to the stores.
A seismic shift in consumer behaviour

As the physical world got smaller and smaller for consumers, the necessity for online shopping grew substantially, forcing retailers to accelerate and reprioritize their digital investments to survive. But issues with supply for much-in-demand items had consumers turning on a dime toward anyone who could deliver the goods quickly and safely.

The impact extended beyond what and where consumers bought to why and how they bought. Shopping experiences went from being pleasurable and leisurely to fear-driven and seemingly apocalyptic. A panic-driven need for essential goods shifted spending from fashion, entertainment and travel to toilet paper, hand sanitizer and sweatpants overnight.

This resulted in a tremendous business burden to build or optimize e-commerce and digital experience capabilities. The ability for retailers to rapidly adapt to meet these drastic new demands and expectations became a nightmare.

Now, a year later we are finally emerging into somewhat normalcy thanks to ramped-up vaccination programs, which means another significant shift in consumer behaviour, and thus expectations, is upon us. What consumers buy will return to pre-pandemic pleasures as they crave travel, socializing and restaurant dining, and will be trading in their sweats and masks for dress-up and makeup.

As for how they buy? Where do they shop? All indications are that some of these newly adopted online habits will stick, but as many people go back to stores, retailers will be forced to adopt a more hybrid model and unified commerce vision.
A new era of consumer expectations for omni-channel

For many retailers, the transformation to digital and omni-channel experiences was happening even before the pandemic. At Thinkmax, we've been working with companies for over a decade to support their digital transformation for unified commerce. Forward-thinking retailers had a tremendous leg up on the competition during the pandemic, not only with integrated in-store and online capabilities, but more importantly, a modern, cloud based technology infrastructure empowering them to rapidly adapt to new expectations. This digital maturity also provided them the customer data to deliver more personal and convenient experiences and offer new, safer alternatives like curbside pick-up.

More than three-quarters of digital experience leaders said they could make quick changes based on customer learnings, compared with 35% of less mature companies [1].


Meeting new customer expectations online

The pandemic accelerated the adoption of eCommerce, but many retailers are quickly realizing that being online is not nearly enough. The competition has gone global, brand loyalty is very fickle, and the winners are those that understanding the buying journey and can deliver on what matters most.

The path to purchase has become random. Every customer has their preferred way to shop, which is also influenced by mood, the weather, budget, time, tech savviness, patience, type of shopper, and if they are buying out of necessity or pleasure.

Two of the most impactful ways retailers can be exceptional online is by offering convenience and relevancy.

Convenience every step of the way

When shopping online, consumers rank convenience as the most important factor at the very beginning of their research, followed by post-purchase. To the contrary, when in-store, convenience is most important at checkout followed by right before they purchase, with research coming in last. This clearly depicts the need to understand the omni-channel shopping journey and expectations at every stage across touchpoints [2].



How can retailers change/upgrade the shopping experience to deliver convenience?
Carefully consider UX design of your website

Ensure ease of use and optimized search capabilities

Guide them with relevant recommendations

Offer on-demand customer support




97% of consumers have backed out of a purchase because it was inconvenient for them [3].

Relevancy leads to hard-won loyalty

Convenience may lead to a purchase, but without relevancy and trust, that may be the last of it. A fast and easy experience may bring them back one more time, but without consistency and relevancy moving forward, they have no reason to stick around. Brands who put the effort into adding value and ensuring a more personal and relevant experience are rewarded.

91% of all customers are more likely to shop with brands who recognize and provide them with relevant offers and recommendations [4].

To deliver personalized experiences, retailers need to harness data – personal history, preferences, context and intent can be turned into gold. What did they purchase in the past? What recommendations can engage and entice? How often do they shop online? Have they responded to recommendations or offers in the past and if so, which ones? Where are they along the path to purchase and what is their usual intention at that stage?

The potential to accelerate the sale, boost cart value, build loyalty and improve bottom line depend on leveraging these insights to ensure every experience is relevant.

According to a Forrester Consulting survey from July 2020, at the start of the pandemic ecommerce boom, relevancy was a driving force for ¾ of shoppers [5].
65% of shoppers are more likely to buy again from a brand providing relevant recommendations at checkout.

68% of consumers are more likely to join a loyalty program from a brand offering personalized shopping experience.




Meeting new in-store expectations

As the shift toward online shopping accelerated, the decline of in-store traffic and sales did as well. More mature retailers had already begun the shift toward omni-channel, with digital in-store experiences, mobile checkout and BOPIS (buy online, pick-up in store). Even so, with stores shuttered or limited to minimal capacity, all retailers were forced to rethink their bricks-and-mortar.


Short-term vision – leveraging stores as fulfillment centers

With consumers having no option but e-commerce, retailers and with their partners across the supply chain weren't prepared to handle the demand. Those with little or no eCommerce capabilities were technologically and strategically strapped, as even mature digital retailers had to figure out how to handle the swift shift.

The role of the store changed overnight. If stores were even allowed to be open, footfall dropped drastically with health and safety concerns. And for those shoppers still craving that in-person experience, store capacity was strictly limited leading to long line-ups just to get in. Merchandise was scarce. Prices increased. Shopping became an even more inconvenient and unpleasurable experience, thus driving even more consumers online.

The demand for at-home or curbside delivery skyrocketed. BOPIS replaced the physical shopping experience, requiring integrated and sophisticated warehousing and inventory management on the backend. Physically speaking, stores went from beautiful to functional.

In addition, store managers had to assume new roles and responsibilities to ensure their space and employees respected all health and safety measures, and employees were trained as guards and order pickers.

That was essentially what had become of bricks and mortar in 2020.



Now, just over a year later, retailers who made it through the storm finally got the process down, things are changing again. As consumers adjust to a reopening and feeling of normalcy, things will never quite go back to the previous normal. Business analysts predict that e-commerce and the desire for safer contactless shopping are here to stay, albeit more balanced.

So where does that leave bricks? How can retailers woo customers back into their stores where sales tend to be more profitable? And how can they adjust once again, implementing that hybrid model so quickly?

Take Best Buy as an example. Best Buy is rethinking functionality and the way products are displayed, testing stores where it devotes more square footage to fulfilling online orders than showing off flat screen TVs and smartphones. 

Another retailer making significant changes to its stores is Walmart, criticized during the pandemic for the appearance of their stores as shelves remained empty while they focused on fulfilling eCommerce orders. Their plan now is to invest heavily in converting key stores into high-tech fulfillment centers to meet this new demand, and on automation to speed up order picking.

Even the design and flow of the store must change. Consumers got used to easily searching and finding detailed product information and comparing prices and delivery options, and will have a much lower tolerance for sifting and searching through messy racks, or having to ask for help, not to mention long checkout lines or self-checkout complications.
Navigating the new divide (there isn't one)

Retailers need to stop thinking in terms of brick and mortar vs. eCommerce. There are no more silos. Addressing the new consumer buying journey and post-pandemic sticky habits and expectations requires thinking about all investments with a unified vision.

When Forrester polled shoppers of different ages and locations across the U.S., two thirds said that even when things go back to normal, they will continue to shop online more than they did pre-pandemic [6].

According to Mastercard's chief economist Bricklin Dwyer, about 20% to 30% of the $900 billion additional digital spending in 2020 will continue into 2021 and the next few years [7].
Technology and empathy

Emerging from the pandemic, retailers can leverage their technology investments and a goldmine of eCommerce data and apply it to provide customer-centric shopping experiences, proving that they're on this crazy ride with them.

Applying empathy to the insights of cold, hard facts will stand out to consumers, as they continue to look for more ways to save time, money and effort. The things that will continue to matter most – convenience, safety and choices, will be even more important as the world opens up and consumers are juggling busier calendars with work, kids' activities and socializing.

In addition, health and safety concerns may dissipate but for many, they won't disappear, so options like curbside pick-up, in-store protocols, and contact-free commerce may become more the norm.

As we all emerge into a new normal, retailers have incredible opportunities to win the hearts and wallets with the right vision, technology, and understanding what their customers truly want and need.
---
[1] https://www.digitalcommerce360.com/2021/04/15/5-steps-for-walking-a-digital-mile-in-your-customers-shoes/
[2] https://nrf.com/research/consumer-view-winter-2020
[3] https://nrf.com/research/consumer-view-winter-2020
[4] https://www.digitalcommerce360.com/2021/04/27/relevancy-the-ultimate-driver-in-e-commerce-revenue/?_hsmi=124069149&_hsenc=p2ANqtz-8EfioubbnJdaxCObi8DDyH-4tBxJi-oMpnkueFGxoo50am-VDkkvLKTUSKb3-uRybbmHLApICxLq9cllWmrF6mxiqwGw
[5] https://rokt.com/unlock-value-ecommerce-research/?utm_campaign=202104DC360Email&utm_source=email&utm_medium=relevancy_article&utm_content=dc360
[6] https://rokt.com/unlock-value-ecommerce-research/?utm_campaign=202104DC360Email&utm_source=email&utm_medium=relevancy_article&utm_content=dc360
[7] https://www.cnbc.com/2021/04/13/as-americans-return-to-shop-in-stores-some-retailers-are-still-a-mess.html