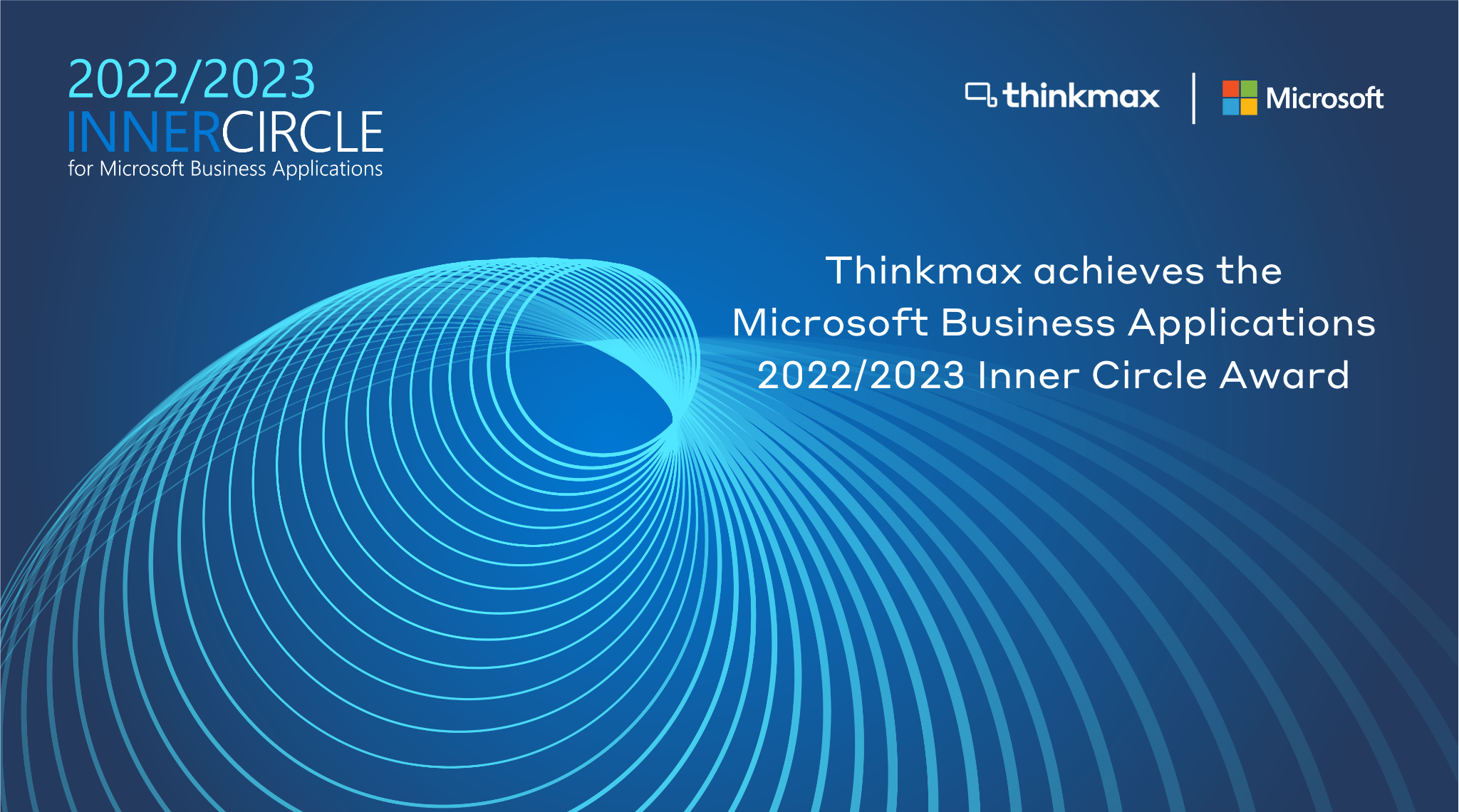 Thinkmax is honored by Microsoft for achieving outstanding sales achievement and innovation.
Montreal, Quebec, Canada — September 28, 2022— Thinkmax, a leader in digital transformation and unified commerce has achieved the prestigious Microsoft Business Applications 2022/2023 Inner Circle award. Membership in this elite group is based on sales achievements that rank Thinkmax in the top echelon of the Microsoft's Business Applications global network of partners. Inner Circle members have performed to a high standard of excellence by delivering valuable solutions that help organizations achieve increased success.
2022/2023 Inner Circle members are invited to the Inner Circle Summit in Spring 2023 as well as virtual meetings between June 2022 and August 2022, where they will have a unique opportunity to discuss strategy with Microsoft senior leaders and fellow Inner Circle partners, while learning more about the company's road maps and future plans, establish strong executive connections, and collaborate on best practices.
"We are proud to recognize a group of partners who have excelled at accelerating their customer's digital transformation through the digital innovations from Microsoft Business Applications," said Peter Jensen, Microsoft Business Application Partner Strategy Lead. "Inner Circle partners represent some of the best IP, Industry expertise, and technical capabilities in Dynamics 365 and Microsoft Power Platform. Their dedication to customer success and the Microsoft Cloud have set them apart, and we are honored to recognize Thinkmax for their achievement and membership of the 2022/2023 Inner Circle".
Thinkmax is dedicated to supplying valuable solutions that help customers achieve a competitive advantage by working with them to identify the best solutions and services that accommodate their business needs while excelling in customer satisfaction. By collaborating with the teams at Microsoft, Thinkmax maintains a strong expertise of the Microsoft platform to provide innovative solutions, strong services and unparalleled value to their customers. Thinkmax has achieved the Inner Circle for 7 consecutive years, as well as other honors including 2021 Microsoft Dynamics 365 Commerce Partner of the Year Finalist and 2019 Microsoft Impact Award Winner: Business Applications Innovation – F&O.
Thinkmax provides implementation, training and consultation across North America for small, midsize and corporate businesses using business enterprise applications. Thinkmax specializes in ERP modernization and unified commerce on the Microsoft Dynamics platform to develop and deploy solutions, such as Finance, Supply Chain Management, Project Operations, Commerce, Customer Engagement and Power Platform that help leading global companies across industries, including retail, manufacturing, and engineering & construction, get to market faster and achieve continued success.
"It is once again an honor to be awarded this prestigious achievement by our partner Microsoft. It proves the tremendous success of our ongoing efforts and commitment in architecting and implementing business applications and ERP systems built around the Microsoft Dynamics 365 ecosystem with industry-specific focus," explained Marc Belliveau, President of Thinkmax.
About Thinkmax
Leveraging advanced industry and technical expertise with leading-edge technologies, Thinkmax implements efficient and innovative solutions, streamlining business processes, unifying digital experiences, and accelerating transformative change.
With offices in Canada and the US and partnerships with world-leading organizations, Thinkmax's human-centric, hands-on approach, and proven methodology build sustainable solutions and enduring relationships for ongoing success.
For Additional Information:
Kais Makhlouf, Vice-President, Digital - Thinkmax
kmakhlouf@thinkmax.com