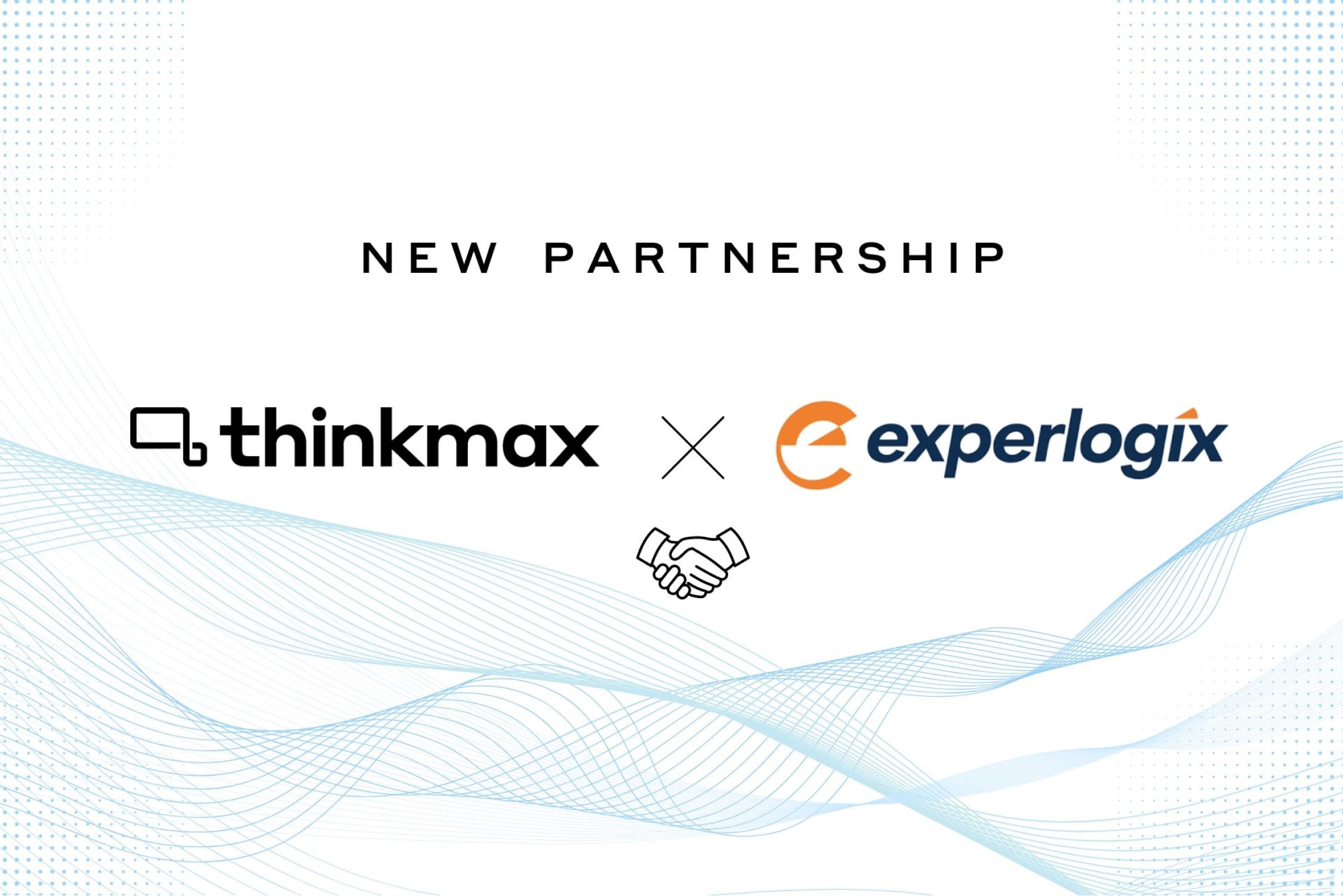 Thinkmax and Experlogix are pleased to announce their global partnership.
Montreal, QC and South Jordan, UT - October 10, 2022 - Thinkmax, a leading North American technology consulting company that helps manufacturers and retailers accelerate their digital transformation, and Experlogix, a leading provider of cloud-based CPQ (Configure, Price, Quote), document generation and automation software, are pleased to announce their global partnership.
"We are excited to partner with Experlogix to complement and enrich our Thinkmax manufacturing industry solution blueprint built around Microsoft Dynamics 365 for Finance and Operations, Dynamics 365 Customer Engagement, Dynamics 365 Commerce and Optimizely. This advanced CPQ solution is critical for organizations requiring sophisticated configure, price, quote capabilities across channels" said Patrik Chavarie, Vice President Business Development at Thinkmax.
Thinkmax works with mid to large-size organisations in a variety of industries to digitally transform and automate their processes with the implementation of ERP, CRM and eCommerce solutions complemented by data and analytics expertise. The company's extensive background with the Microsoft Dynamics 365 ecosystem made it a perfect fit for the Experlogix partner program, which includes more than 450 companies around the globe.
Experlogix software allows organizations to leverage powerful CPQ and document automation functionality from within key business systems such as CRM and ERP. The software allows customers to drastically cut down on manual work, improving the efficiency of complex and time-consuming processes. As a Microsoft Gold Partner, Experlogix solutions seamlessly integrate with the Microsoft Dynamics 365 ecosystem, as well as other leading CRM and ERP platforms.
"The long-term goal of the partnership is to jointly continue to provide our clients with best of breed technological capabilities, enabling them to achieve optimal operational efficiency and industry leadership in their markets" said Anthony Mansour, Partner Business Development Manager at Experlogix.
What Is CPQ?
Configure, Price, Quote, or CPQ, is a business software used in the B2B industry that enables sales teams to quote complex configurable products and services with accuracy. CPQ controls product and service options, available feature combinations, pricing and discounting, and automates quote processes, helping sales representatives quote fast and sell right – every time.
Regardless of how companies sell – direct sales team, via resellers, or B2B/B2C on the web – the Experlogix CPQ software simplifies and accelerates the quote-to-cash processes through powerful and comprehensive yet simple-to-use capabilities – front-to-back-office processes, efficient approval workflows, logic-based pricing and discounting, dynamic product visualisations, guided selling, on-demand BOM and routing, advanced manufacturing capabilities, document automation, and e-commerce platform integrations – helping companies to sell at the speed of now and increase revenue.
About Experlogix
Experlogix is a global leader in CPQ (Configure, Price, Quote) and document generation and automation solutions, with thousands of customers worldwide in a variety of industries. We elevate customer engagement, business growth and success through powerful and flexible technologies that simplify and accelerate complex processes, improve compliance and quality, and reduce dependence on technical resources. Experlogix – Simplifying the complex.
About Thinkmax
Leveraging advanced industry and technical expertise with leading-edge technologies, Thinkmax implements efficient and innovative solutions streamlining business processes, unifying digital experiences, and enabling transformative change. With offices in Canada and the US and partnerships with world-leading organizations, Thinkmax's human-centric, hands-on approach and proven methodologies, provides sustainable solutions and enduring relationships for ongoing success.
For additional information, please contact:
Pamela Velentzas - Senior Marketing Manager - Experlogix
pvelentzas@experlogix.com

Kais Makhlouf - Vice-president, Digital - Thinkmax
kmakhlouf@thinkmax.com