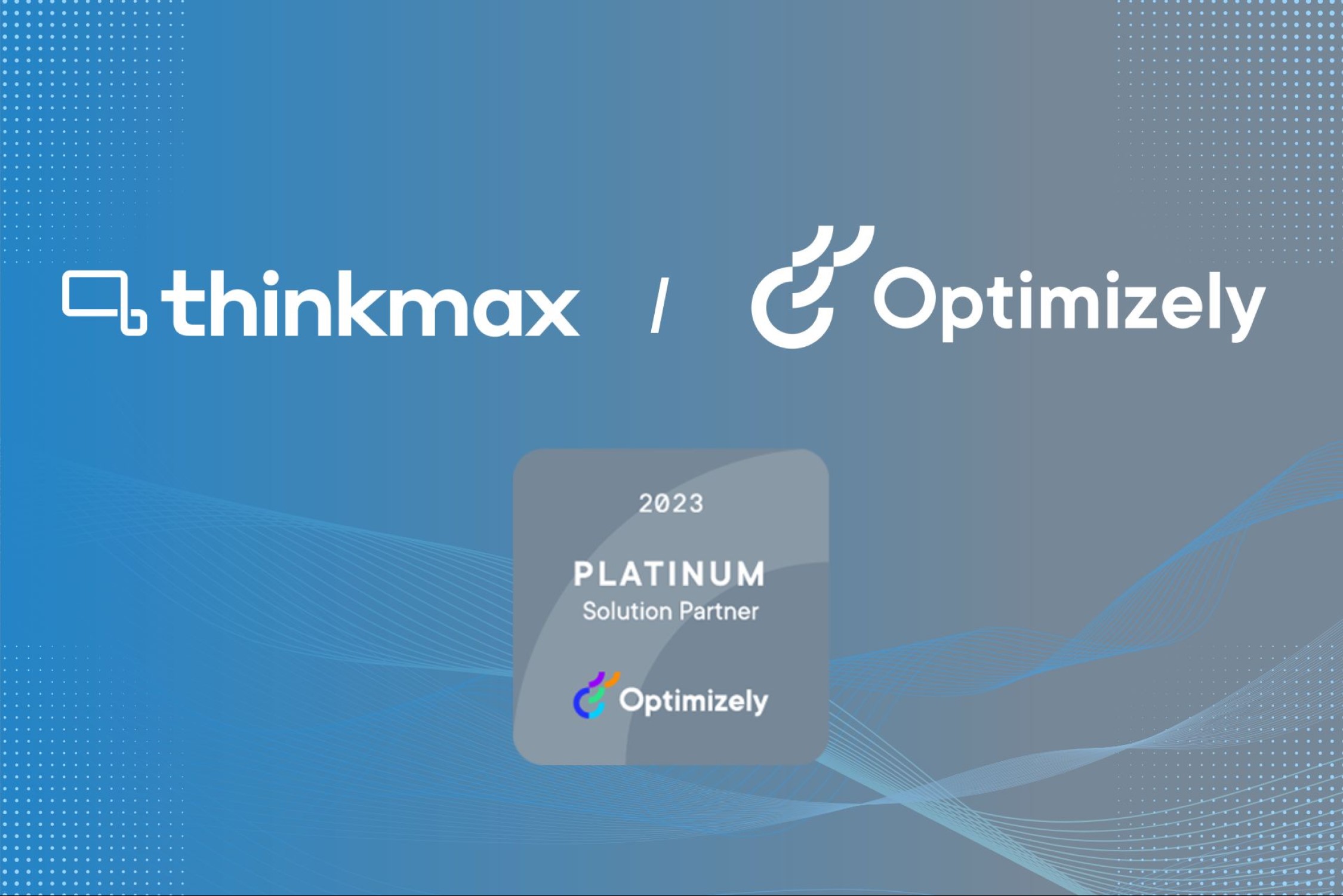 Montreal, Quebec, April 26, 2023 – Thinkmax, a partner for transformative growth through strategic consulting and digital innovation leveraging cloud technology, today announced that it has been certified as a Platinum Partner of Optimizely, the leading digital experience platform (DXP) provider.
To achieve Platinum Partner status, Thinkmax completed a thorough certification processes including participating in Optimizely Education training and having at least 10 Optimizely Certified Professionals. Through this accomplishment, Thinkmax joins Optimizely's Solution Partner Success Program as a qualified, value-add seller of the Optimizely Digital Experience Platform. As a Platinum Partner, Thinkmax has comprehensive competency, implementation experience, an extensive product expertise.
Optimizely's Digital Experience Platform provides content management (CMS), content marketing (CMP), orchestration, commerce, experimentation, analytics and personalization on one screen. A recently commissioned Total Economic Impact™ study conducted by Forrester Consulting on behalf of Optimizely found that over three years, a composite organization realized 370% return on investment (ROI), $9.84 million net present value (NPV). Optimizely also generated $1.1 million in savings due to increased developer productivity as a result of deploying the company's DXP. To help arrive at the ROI and subsequent financial analysis, Forrester Consulting interviewed five decision-makers who are Optimizely DXP customers and designed a composite organization based on characteristics of the interviewees' organizations.
Along with low total cost of ownership, Optimizely gives teams greater agility to respond to trends and market conditions as well as provides smarter customer intelligence to reach the "right" potential customers and provide more relevant content that engages and converts.
"Our clients come to us seeking guidance and technology expertise. Whether it be retailers or manufacturers, B2X digital commerce is everywhere, so it's become a huge priority to deliver frictionless experiences. Optimizely DXP proves time and time again to be a powerful tool that perfectly suits our clients' needs, and we are proud to be recognized as a Platinum Partner. We look forward to many new success stories in 2023!", explained Marc Belliveau, President of Thinkmax.
With a network of over 700 partner companies in 30 countries, Optimizely seeks to connect with qualified partners whose firms possess a wealth of experience, team members with a creative outlook, global reach, and a collective eye toward future opportunities to ensure mutual customers are successful in the short and long term.
"Optimizely is proud to have this relationship with a world-class partner like Thinkmax. Together we are delivering exceptional projects to customers on a first-class platform that optimizes the end-to-end digital experience," said Jessica Dannemann, Chief Worldwide Partner Ecosystem for Optimizely. "Thinkmax has risen to the occasion to earn Platinum status and identify as a partner that is experienced in leveraging the Optimizely product portfolio to help growing companies unleash their digital potential."
About Thinkmax
Leveraging advanced industry and technical expertise with leading-edge technologies, Thinkmax implements efficient and innovative solutions, streamlining business processes, unifying digital experiences, and accelerating transformative change.
With offices in Canada and the US and partnerships with world-leading organizations, Thinkmax's human-centric, hands-on approach, and proven methodology build sustainable solutions and enduring relationships for ongoing success.
For Additional Information:
Kais Makhlouf
Vice-President, Digital – Thinkmax
kmakhlouf@thinkmax.com
About Optimizely
At Optimizely, we're on a mission to help people unlock their digital potential. We do that by reinventing how marketing and product teams work to create and optimize digital experiences across all channels. With our leading digital experience platform (DXP), we help companies around the world orchestrate their entire content lifecycle, monetize every digital experience and experiment across all customer touchpoints. Optimizely has 700+ partners and nearly 1500 employees across our 21 global offices. We are proud to help more than 10,000 businesses, including H&M, PayPal, Zoom, Toyota and Vodafone, enrich their customer lifetime value, increase revenue and grow their brands. At Optimizely, we live each day with a simple philosophy: large enough to serve, small enough to care. Learn more at optimizely.com.
Optimizely Contact:
Rachel Teitt Gill
Sr. Director, Global Communications
Rachel.teittgill@optimizely.com


Victoria Johnson
Sr. Manager, Global Communications
Victoria.Johnson@optimizely.com