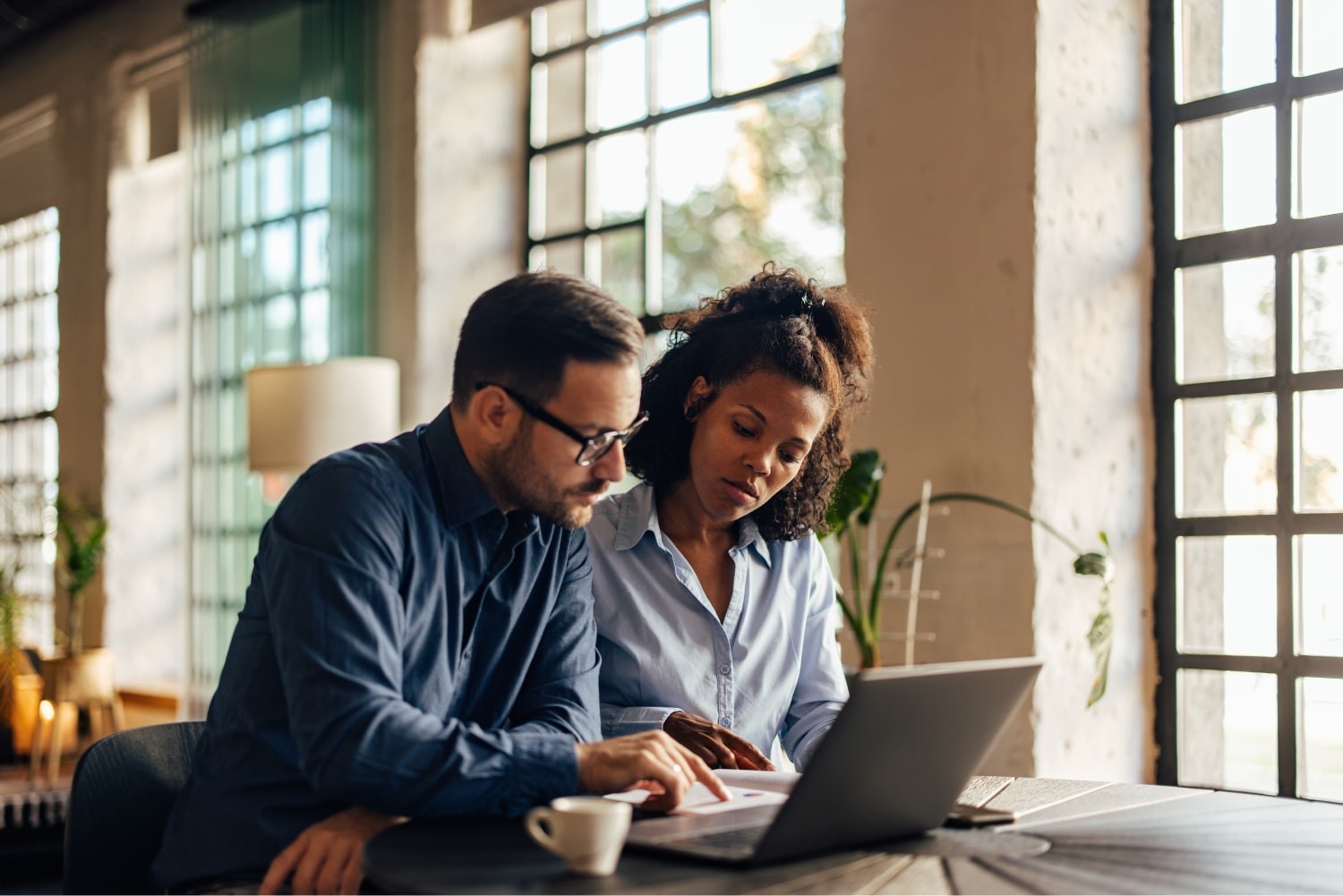 Personalized customer journeys made possible
The scenario: You want to own and build a meaningful customer journey to deliver an exceptional, personalized customer experience, but you're dealing with challenges like:
A

business process that's not generating leads from marketing campaigns and activities

An existing business model that lacks a direct relationship with your customers

The inability to deliver personalized experiences

Data that's everywhere and disconnected; you can't get a clear picture of your customers
The need: A marketing platform that allows you to segment and target customers based on a 360-degree view and create personalized experiences across touchpoints:
Help all relevant teams to elevate customer experiences​

Engage with customers in real-time and respond based on their interactions​

Personalize the customer journey with AI driven insights and recommendations​

Improve customer trust and loyalty
It's a situation we've seen many times with retailers whose marketing platforms don't play nicely with their CRM. Fortunately, our partner Microsoft offers a complete Customer Engagement ecosystem that takes CRM to the next level with unified customer data available across marketing, sales, and customer service channels.
Discover which CRM is best for your retail business.
In this article, we'll explore how Microsoft D365 Customer Insights light up the capabilities of the D365 Marketing platform to power meaningful, personalized moments every time.
Microsoft Dynamics 365 Marketing features
Segmentation and targeted communications

Personalized and engaging emails, push notifications and SMS

Automated and orchestrated dynamic customer journeys
Segmentation and targeting at its finest
The value of your customer data is in your ability to gain deep insights and create highly targeted marketing communications that strengthen customer relationships.
Through your marketing activities you are likely capturing behavioral data, although that may or may not be siloed. Imagine combining that behavioral data with geographic, demographic, and psychographic data into a single, 360-degree view of your customer. That's untapped gold for marketers.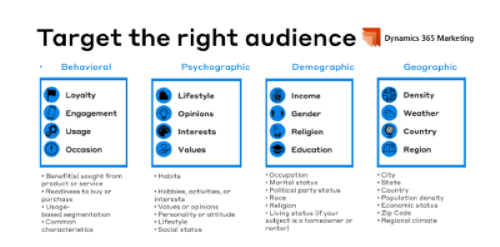 Highly personalized emails
By understanding who your customers are, what they want, where they are in the customer journey, even how ready they are to buy, you can reach them with highly personalized emails, recommendations, and experiences.
Dynamics 365 Marketing emails are designed to target entire segments with customized, personalized messages for each recipient, delivered individually from your organization. Rich in design, consent enabled features provide personalized, dynamic content which can greatly improve the open and response rate.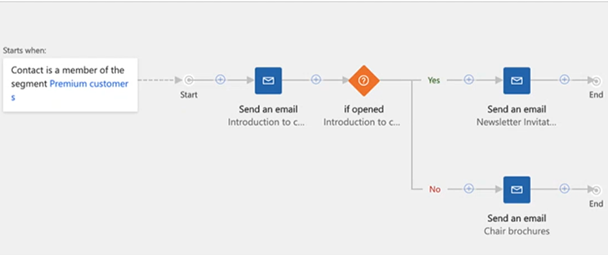 Automated dynamic customer journeys
With Dynamics 365 Marketing, you can attract the right prospects, personalize the customer journey, improve engagement, and track engagement across various customer touchpoints.
Automated communication workflows based on rich insights and individual behaviors allow you to deliver the right message to the right person at the right time on the right channel. This form of automated dynamic engagement follows and guides the customer journey toward the goal of conversion into revenue.
Taking it to the next level of one-to-one engagement, you can orchestrate customer-led journeys triggered by real-time interactions, with AI-driven content on their preferred channel including email, push notifications and SMS.
Watch our on-demand webinar: how insights-driven marketing moments strenghten customer relationships.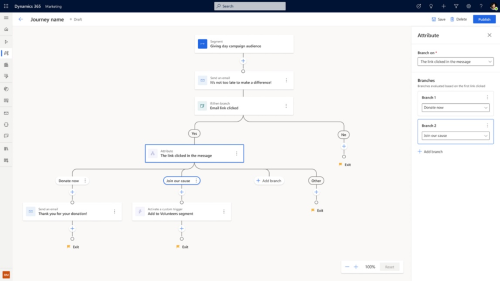 Create meaningful, measurable marketing moments with customer insights
With Microsoft Dynamics 365 Customer Insights, you gain deeper insights about customers that feed granular segmentation and highly refined targeting abilities for your marketing efforts.
Meet your customer digital twins
Capturing customer engagement across touchpoints is the starting point of knowing who your customers are. The rich segmentation and targeting required to deliver highly personalized marketing moments that convert are based on a complete, 360-degree view of your customer: behavioral, psychographic, demographic, and geographic.
With Microsoft D365 Customer Insights, all of that data is unified in a central Customer Data Platform, and you can build digital twins providing a much clearer picture of who they are. The clearer the image, the more personalized your marketing can be.
This holistic view, based on real-time, actual events, drives personalized business processes and engagement not only across marketing, but also sales and customer service. Furthermore, with shared visibility of up-to-date customer engagement, your entire organization has a single source of truth on top of which analytics, AI, and ML can be applied to derive insights and KPIs. Customer Insights comes with out-of-the box (OOB) AI and analytics including measures, segments, and ML predictions such as Churn, Customer Lifetime Value (CLV), Sentiment Analysis (preview) and Product Recommendations.
Here are some examples of the marketing scenarios that customer insights can enable: ​
Lead generation

: Increase conversion by focusing on your best prospects; enrich customer data with external data such as brand affinity or preferences to better predict which prospects are most likely to convert.
Campaigns/Segmentation

: Create more accurate and micro-targeted segments to better reach prospects and customers; send segments to executional tools for email campaigns, mobile messaging, etc.; use a combination of events, location, user profile attributes, and historical data from Customer Insights to deliver personalized information, content, and offers.
Website/Content Personalization

: Surface personalized and relevant content to develop an authentic and emotional connection with customers.
Customer engagement everywhere has become a defining differentiator for retailers. Discover all of the powerful capabilities of Microsoft Dynamics 365 Marketing and Customer Insights to create personalized, meaningful and measurable marketing moments.