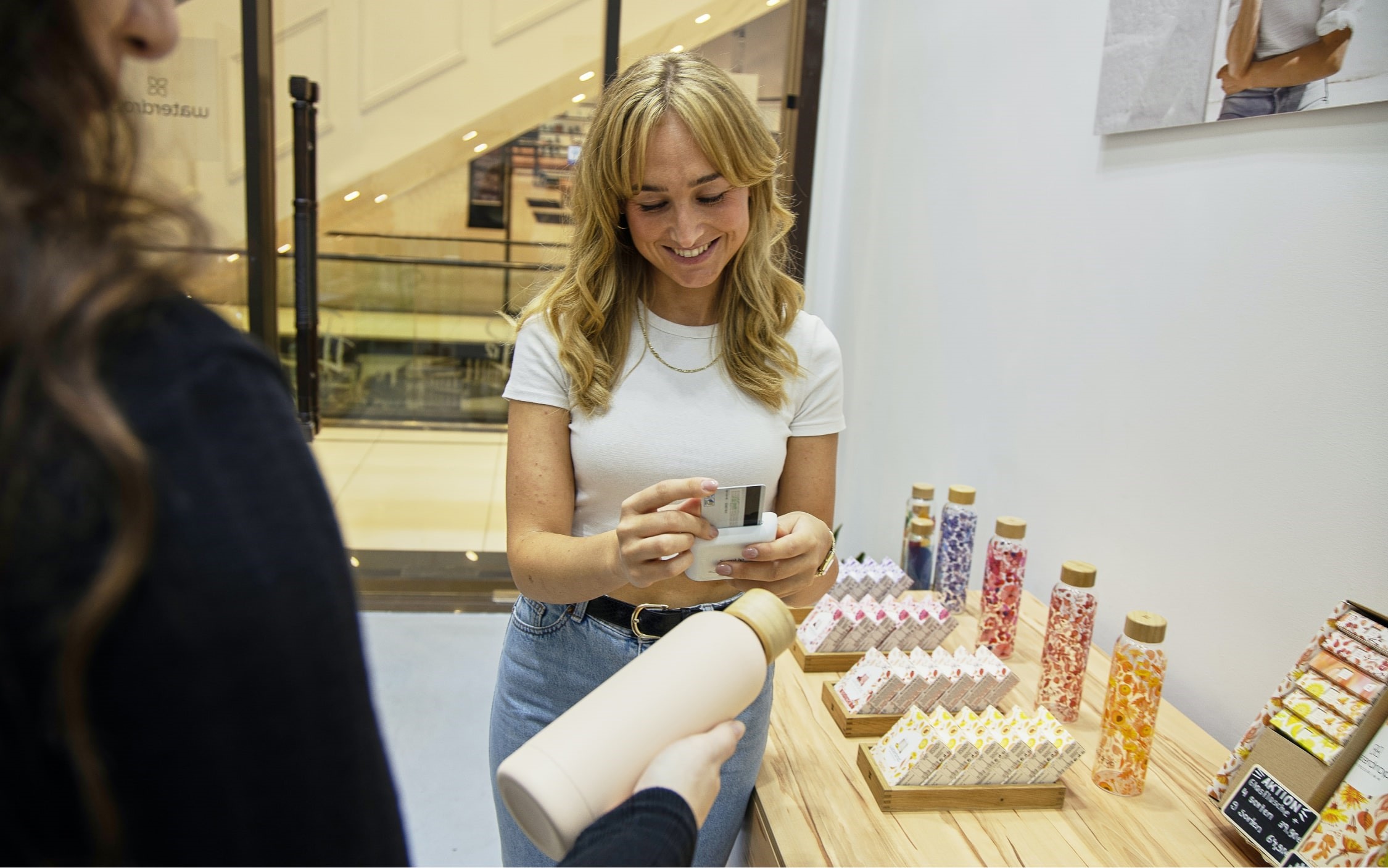 Let's start with the facts. In a world where e-commerce penetration soared more than 5%

[1]

in just one year claiming over 20% of total retail sales, the data paints a pretty clear picture of the new retail landscape.





There are no misgivings about how the pandemic accelerated the adoption of e-commerce and the decline of in-store sales, so as things get back to (a new) normal, many retailers are in the dark asking, now what? What online shopping behaviours will stick with the reopening of stores? And incidentally, should retailers prioritize investing in e-commerce or bricks and mortar? The answer is both, but the opportunity to reinvent stores as a competitive advantage is now.

A chance to reconnect


Consumers want the best of both worlds. They've come to appreciate the conveniences of online shopping and contactless fulfillment options such as BOPIS and curbside pickup, options that are now a permanent part of the shopping journey. People will always look for more ways to save time, money, and effort, especially as life gets back to a busy pace.

In the store, shoppers expect personal, safe, and frictionless experiences in addition to all the conveniences of online shopping, such as more autonomy to quickly find what they're looking for, fast and easy check-out, and simple returns. Mobile apps, digital signage, and self-checkout are just a few examples of bringing convenience into the store.

As we emerge from the pandemic hope and optimism reign, and there's a renewed, almost heightened excitement about heading back to stores for the social, and physical experiences we crave. Retailers with brick-and-mortar locations have tremendous opportunities to leverage them to better serve the new needs and expectations of a more sophisticated, educated omnichannel shopper, and reconnect with customers in meaningful ways.


Reopening strategies


"This is bigger than a store opening… it's your grand reopening" [2].

Retailers should think about stores with a new mindset. They will serve a different purpose as the next new normal of retail evolves, no longer product-centric destinations where people go to buy products. It should be irrelevant for a company whether a customer purchases online or in-store since the purchase journey is now random and blended, where much of the preliminary search happens online, and the pre-purchase decision is made in the store. The stores are where the magic happens, where personal experiences create emotional connections and convince customers to buy.

After many retailers made the leap into investing in e-commerce capabilities, it's the perfect time for them to rethink the in-store experience as entertainment venues, as brand and marketing venues, and as supply chain outlets.

In Deloitte's Executive Summary report on Post-Covid strategies for retailers, they present four key areas for retailers to prepare as they reopen stores for what changes may be ahead.


How the consumer journey is changing and what vital role stores will play.





How retailers must leverage data and continue to "lay the tracks while the train is moving".




The power of data and empathy


Brands that sustained throughout 2020 and are on track to thrive in 2021 and beyond are ones that have taken steps to make the in-store experience an enjoyable (and safe) one" [3].

How can retailers thrive in a post-Covid world? Two words come to mind, data and empathy.

The US Department of Commerce reports 10 years of online retail growth in just 3 months, and according to Shopify, 79% of the whopping 150 million new online shoppers plan to stick with it to some extent [4].

With stiff competition online, bricks are where retailers can truly differentiate, making personal connections that lead to brand loyalty online and offline. It always comes down to understanding wants and needs, and making customers feel important and appreciated. E-commerce provides incredibly valuable and localized data, but personal and in-store engagement also provides a wealth of information. It's the powerful combination of both that gives retailers a leg up.


Listen: Backend data may give a clear indication of the who and the what, but the real gold nuggets are revealed through personal interactions between employees and customers.



Pivot: Create exceptional, hands-on, in-store experiences that let customers touch, feel and learn about the brand, like interactive displays, workshops, VIP events.





Adapt: Continue to leverage actionable insights online and offline to deliver exceptional experiences wherever customers shop.

Clean and safe destinations first and foremost


"It's time for retailers to clean up their act — or risk losing customers" [5].

With the strains and challenges on retailers and on the supply chain to meet e-commerce demand, the need to leverage bricks and mortar locations for assembling online orders and delivering curbside pickup wreaked havoc on stores. Messiness, empty shelves, and employees packing orders were evidence that the appearance of stores and the in-store shopping experience were afterthoughts as retailers scrambled.

Shoppers were not impressed and happy to share photos on social shaming stores where they may have once shopped. Retail industry thought leaders were very quick to call out big brands for their "pathetic retailing".

As retailers try to woo shoppers back to stores, where sales tend to be more profitable, it's imperative they breathe fresh air and new life into their stores. Especially when the global pandemic has drastically altered the consumer psyche and cleanliness and safety are now priorities. Brands can redefine themselves by offering a sense of security in-store, ensuring an environment and experiences that will shape whether consumers feel eager or anxious to shop with them, a feeling that will naturally extend online as well.


Relevant and memorable experiences


"With convenience conquered by e-retailers, stores must be enticing and experiential, although it's not always clear what that means" [6].

The concept of experiential retail has brought new life to stores over the past few years as e-commerce was taking off, allowing forward-thinking retailers to offer memorable and meaningful interactions with a brand in a way that online shopping never could.

Consumers love experiences and stores offer unique opportunities to physically or even virtually try on and test out products in person before purchasing. Whether good or bad, it's meaningful, convenient, memorable and appreciated. These types of experiences, like testing beauty products at Sephora and getting personal tips on the spot, trying out sports equipment on indoor surfaces at Decathlon, putting a winter coat to the test in the Canada Goose cold room, or taste testing at grocery stores, make the buying decision easier and the experience way more rewarding than clicking and hoping.

Of course, that was pre-pandemic, when there were no thoughts of contamination and spreading viruses, whether others have touched or tried something. Even as customers return to stores craving personal and interactive experiences, things will likely never go back to the way they were.

Still, retailers can reinvigorate their stores and their brands with new and creative ways to engage and interact, always taking into account expectations for a clean and safe environment and a desire for more contactless experiences. Every aspect of the in-store experience can be purposeful and cater to the clientele in that specific location from displays, merchandise and in-store promotions to the music, signage, lighting and even scents. Opportunity abounds to make a great, new first impression.


Omnichannel depends on stores

"Increasingly, delivering satisfaction and building loyalty means bringing a single unified view of the customer to interactions across all the touchpoints--in-store, online, by telephone or by mobile device" [7].

Today's retailers are no longer in the business of just selling products. Serving customers requires a certain level of sophistication. A blend of technology and human interactions to ensure customers are welcomed personally online and in-store, where they can get consistent, valuable product information, access to real-time inventory and availability, and fulfillment options.

The new stores of today are central to this omnichannel journey and serve as the physical and personal points of contact in any e-commerce experience.

Shoppers who prefer buying online are at ease knowing they can show up in a store to return an item or change the size or colour. Customers who prefer in-store browsing and shopping should never have to leave a store disappointed with out-of-stock items or sizes, counting on endless aisle capabilities to identify the nearest location and the option to have it shipped or pick-it up.

Mobile apps can connect purchase history, wishlists, and preferences, and present personalized offers when customers are in-store. Or allow them to scan a barcode and see the same detailed product information as online, including reviews, availability and the in-store location of related products. Mobile checkout eliminates the frustration of long lineups when time is of the essence.

Today's unified commerce solutions enable retailers to deliver on these promises.


Moving forward – the post-pandemic store

Just as retailers who made it through the Covid-19 storm finally got the process of e-commerce and using stores as fulfillment centers, things are changing again. As consumers adjust to a reopening and feeling of normalcy, two things are clear for retailers in the current landscape, e-commerce and the desire for safer contactless shopping are here to stay, and the role of the store is changed.

Many are getting a head start. For example, Best Buy is rethinking functionality and the way products are displayed, testing stores where it devotes more square footage to fulfilling online orders than showing off flat-screen TVs and smartphones. 

Another retailer making significant changes to its stores is Walmart, criticized during the pandemic for the appearance of their stores as shelves remained empty while they focused on fulfilling e-commerce orders. Their plan now is to invest heavily in converting key stores into high-tech fulfillment centers to meet this new demand, and on automation to speed up order picking.

Even the design and flow of the store must change. Consumers got used to easily searching and finding detailed product information and comparing prices and delivery options online, and will have a much lower tolerance for sifting and searching through messy racks, or having to ask for help, not to mention long checkout lines or complicated self-checkout.

As we all emerge into a new normal, retailers have incredible opportunities to win the hearts and wallets of shoppers with the right vision, technology, and understanding what their customers truly want and need.

In this new omnichannel retail landscape, all roads lead to stores as a competitive advantage.



---
[1] https://www.digitalcommerce360.com/article/us-ecommerce-sales/
[2] https://www2.deloitte.com/us/en/pages/consumer-business/articles/post-covid-retail-store-strategies.html
[3] https://www.forbes.com/sites/syamameagher/2021/04/06/how-will-businesses-thrive-in-a-post-covid-world/?sh=51e73b6443df
[4] https://www.forbes.com/sites/syamameagher/2021/04/06/how-will-businesses-thrive-in-a-post-covid-world/?sh=51e73b6443df
[5] https://www.cnbc.com/2021/04/13/as-americans-return-to-shop-in-stores-some-retailers-are-still-a-mess.html
[6] https://www.retaildive.com/trendline/evolution-of-stores/54/
[7] https://www.thinkmax.com/en/insights/overcoming-retail-challenges-with-a-unified-commerce-solution/