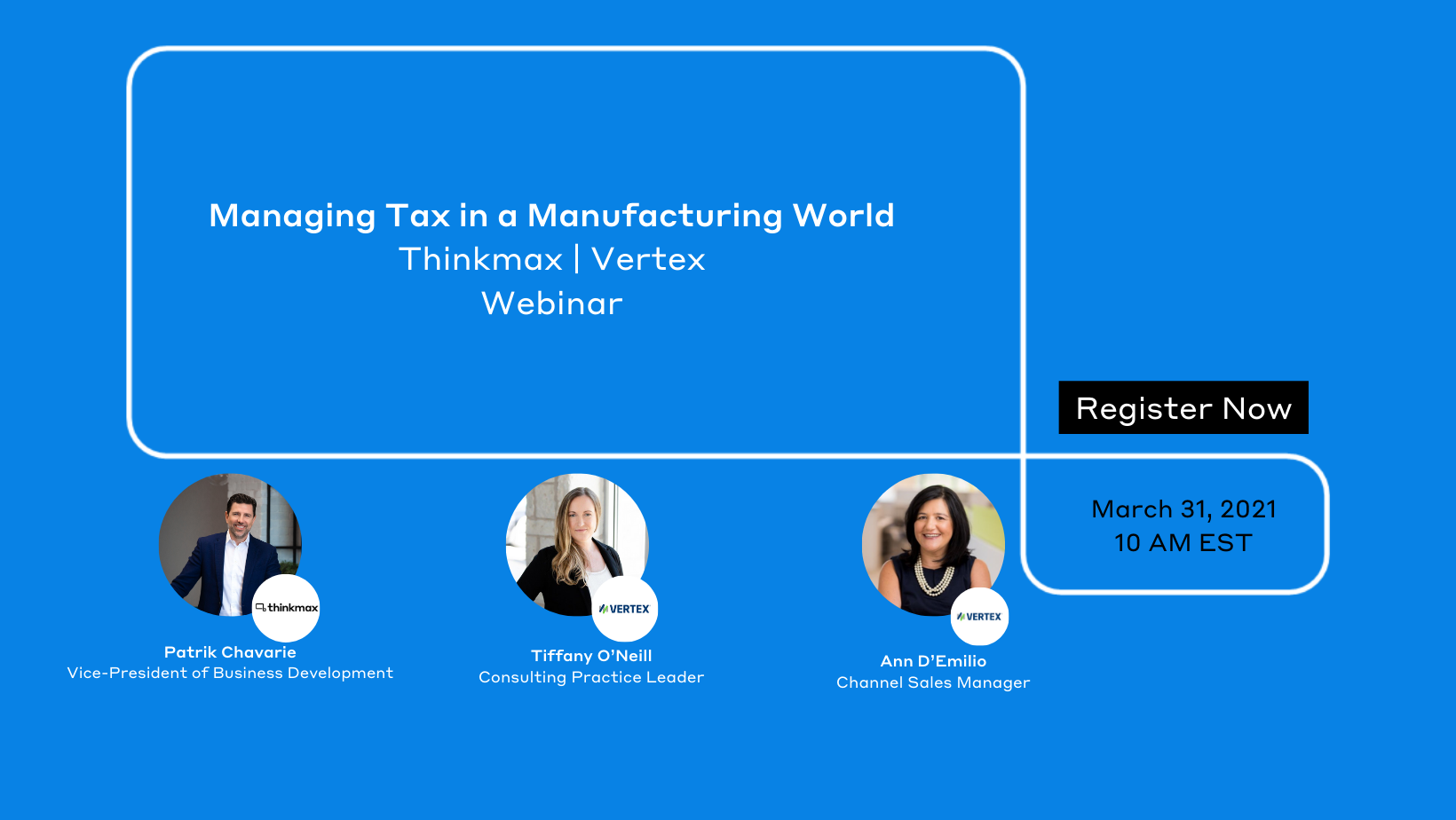 Thinkmax x Vertex webinar | Managing Indirect Tax in a Manufacturing World
Wednesday, March 31st - 10:00 - 11:00 AM EST
Are you a Dynamics 365 user overwhelmed by the great volume of data and how to make sense of it within the manufacturing industry?

When deployed correctly, Finance & Accounting solutions for this sector can unlock infinite possibilities for companies to maximize profitability and gain a unified business view.
This webinar can empower you to conquer the necessary knowledge and skills to use pre-conceived best-practice frameworks, tools and applications, ensuring rapid and efficient deployments of Microsoft Dynamics 365.

Attend this webinar to discover and understand:
• The implications of US Manufacturing
• How unique taxability can be different in different jurisdictions if it is being used to manufacture
• How to determine particulars
• How to understand different data elements
• How to value add/ different fields- flex fields in Microsoft Dynamics 365


In this webinar, Ann D'Emilio, Channel Sales Manager at Vertex Inc. will moderate the discussion about tax management and engage the following experts on the topic:
• Patrik Chavarie | Vice-President, Business Development, Thinkmax
• Tiffany O'Neill | Consulting Practice Leader, Vertex Inc.
• Jana Zeeb | Principal Consultant, Solutions Practice, Vertex Inc.
Join Thinkmax and Vertex to learn how to master tax management functionalities of Microsoft Dynamics 365 to implement your business processes successfully.